Ilford Galerie Prestige: The Return
11 September 2014 | Morco Ltd.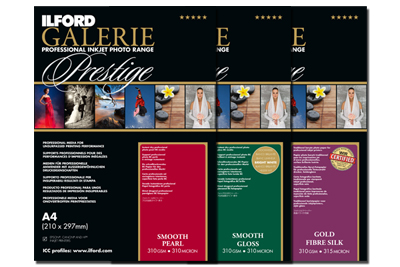 Ilford Galerie Prestige Smooth Pearl, Smooth Gloss and Gold Fibre SIlk are back in production.
Ilford Galerie Prestige combines state-of-the-art inkjet technology with more than a century of experience in the craft of photographic image making to provide a range of products that match the aspirations and needs of professional photographers the world over.
GALERIE Prestige Smooth Pearl & Smooth Gloss paper features the very latest HDR (High Dynamic Range) optically clear coating and coupled with recent advancements in inkjet receiving layer design, makes this the reference media for producing images with superb clarity, high sharpness and excellent colour gamut.
GALERIE Prestige Gold Fibre Silk features an inkjet layer coated directly onto a true baryta (barium sulphate) layer and fibre base to produce images with exceptional gamut for vivid colour reproduction as well as creamy whites and velvety blacks for the unique look of traditional silver halide photo paper.
Pre-orders can be placed by phone on +44 (0) 1636 823 922.
Orders can be placed online when the paper becomes available.