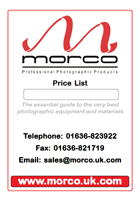 Click here for The Morco Price List downloadable pdf.
ILFORD ULF FILM
We are now accepting orders for single boxes of Ilford Ultra Large Format Film until the 11th June 2015, for delivery around August. Please contact us for details and prices.
KODAK CHEMICALS
ORDER NOW TO BEAT THE HUGE PRICE RISE IN JUNE!